Hello,  VCA has approved for purchase a new way for treating KCS. 
An easy way to get Vizoovet is attached.
It's being dispensed already by some extremely prominent VCA Ophthalmologists like Dr. Wu, Dr. Chang, Marchione, Lanuza and Dr. Mclean to name a few. This case is being presented with the permission of Dr. Lanuza from VCA Care Emergency and Specialty Hospital in Santa Barbara, CA.
VIZOOVET contains: 
Propolis/Aloe Vera/ Chamomile which are « naturally effective » 
Aloins & Emodins are analgesics with powerful virucidal and antibacterial properties 
Alfa-bisabolol and it's oxyde Azulens anti-inflammatory, anti-irritant and also have anti microbial properties. 
No antibiotics 
No preservatives 
No known side effects 
No stinging 
A clinical study is about to begin:
"Efficacy of VizooVet in improving clinical signs of keratoconjunctivitis sicca in dogs: a pilot study"
There are numerous human studies and there have been millions of doses sold and not a single reaction. The formula was developed during the great depression by an ophthalmologist. I will provide those studies upon your request.
The results from clinics already using Vizoovet warrant this guarantee: 
If your client isn't happy with Vizoovet I'll replace it. 
What Vizoovet does: 
3 Important factors in KCS are addressed using Vizoovet. 
1. Normalizing Tear Values 
2. Normalizes Osmolarity 
3. Tear film break up times to improve ocular surface health in dry eye patients 
Dosage: 1-2 drops in each eye twice daily. Preservative free. Discard opened vial after 24 hours. Safe to use as often as needed.
Vizoovet is safe for Cats, Dogs, Horses and Rabbits.
Take a look at the progression of this case of Ophthalmologist Dr. Lanuza from VCA Care Emergency and Specialty Hospital
Click here to order
Vizoovet is all natural, has no side effects or drug interactions. On the link below and above you will see what can happen when you take patients that either have stopped responding or never did respond to drugs like Tacrolimus, and put them on Vizoovet as the Ophthalmologist Dr. Lanuza from VCA Care Emergency and Specialty Hospital did. Dr. Wu at VCA Family in Honolulu is using close to 100 boxes of Vizoovet per month. There are other VCA Ophthalmologists using Vizoovet and a list of them is available. Since the introduction of Vizoovet last August there are 46 Ophthalmologists dispensing Vizoovet. The best cases to try this on are the ones who either stopped responding or never responded to those drugs. 
Use Vizoovet on any of your ocular surface disease cases. 
Petnetwork is an approved "vendor" now and we are working to get Vizoovet on Order Right. Until then, you can order direct and send billing through AP. 
I guarantee it! 
An image from Dr. Lanuza's case:
 Use Vizoovet for Immediate lubrication, comfort, ocular surface protection, pain relief and recovery of the eye's normal osmolarity. The difference in the image below is 5 days treating with Vizoovet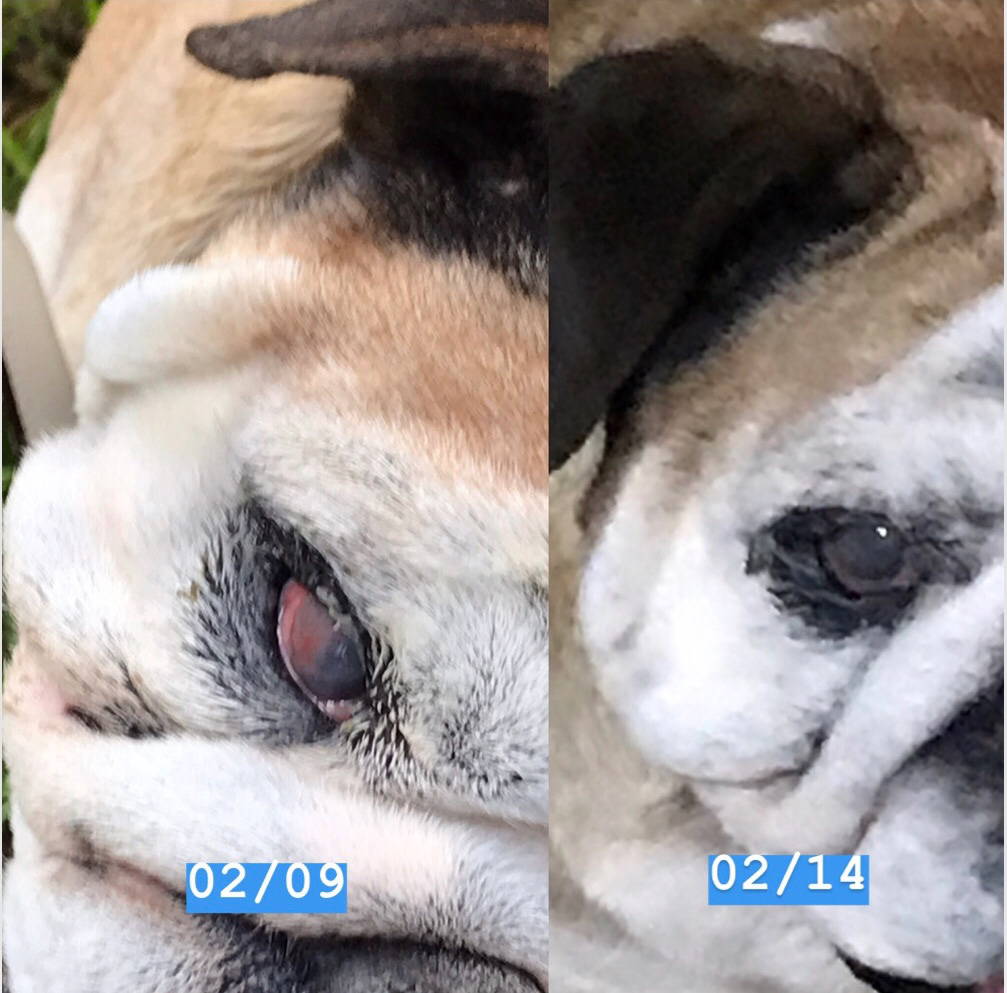 See the rest of the story here:
I can be reached at the number below.
Contact Information:
Mark Jensen Owner/Manager Petnetwork 32565 B Golden Lantern #474 Dana Point, CA 92629 (915) 491-5548 vetnetwork@icloud.com https://www.petnetwork.me
You received this message because you are a member of the ACVO or Doctor of Veterinary Medicine. To stop future emailing, send a reply to
vetnetwork@me.com
with "Stop" in the subject line and I will remove you from future mailings.

© 2019. Petnetwork All Rights Reserved.